Dhaka Commerce College, self-financed and free from politics and smoking, officially began its journey in 1st July 1989 with the hoisting of its historical Signboard at King Khaled Institute at Lalmatia in Dhaka. Then the institution was housed in a rented house at Dhanmondi 8/A. After that it was shifted to its permanent campus at Chiriakhana Road in Mirpur in 22 January 1995. Mr Shamsul Huda FCA took the charge as the first Principal of the college. In August 1990 Professor Kazi Md Nurul Islam Faruky took up the charge of the Principal in deputation and continued up to September 2010. Then Mr ABM Abul Quashem became the Acting Principal. The current Principal Professor Md. Abu Sayeed has been in charge since March 2012.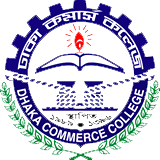 At present academic activities are going on in an eleven storied and a 15 storied building, both are fully air conditioned. There is also an individual administrative building here. There is a hostel for the female students providing accommodation of 72 students. Here are two Teachers' Quarters for 66 families. A well-decorated Auditorium and a Playground is inside the campus.
The academic activities of the college began in 1989 with the teaching of the higher secondary and the B.Com (pass) courses. Then Honours and Masters courses on different subjects have been introduced in the 1994-95 session with the approval of National University. The four year BBA Professional courses are being offered from the 1997-98 session. At present the college is offering Business Studies courses for the higher secondary classes along with courses on Management, Accounting, Marketing, Finance & Banking, English and Economics for graduate and post graduate students. Currently there are about 7 thousand students in the institution along with 135 teachers and 112 staffs.
Website
Address
Dhaka Commerce College Road, Mirpur Dhaka-1216, Bangladesh.
Category
Education >> Private College
Related Tags
Last Updated:
Total Views:
1201 Times